Hungry for more Unbreakable Kimmy Schmidt? We're here to help.

Netflix only released six episodes from the fourth (and last?!) season of the comedy created by Tina Fey and Robert Carlock, with the next half of the season debuting in January, but have no fear an outtake is here!

In the below video, Kimmy (Ellie Kemper) and her backpack, Jan S. Port (performed by Sesame Street and Avenue Q veteran Stephanie D'Abruzzo), are about to embark on an adventure. But it wasn't exactly a happy adventure. D'Abruzzo ad-libbed a cheery song about the dynamic duo.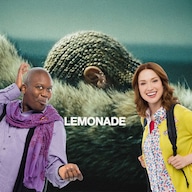 "This was the first scene we shot with Jan, and this moment was a total ad lib on my part. Sometimes we puppeteers like to play around between takes—or at the end of takes—to help find little fun character quirks," D'Abruzzo said in a statement to E! News.

"I am such a ham that once I get going, I'll go until I hear 'cut.' I was very relieved to hear laughter. When your work elicits genuine laughter from the crew, it's the highest praise a performer can get. I'll take the sound of a 10-person crew laughing over the applause of thousands any day," she continued. "Jan saying 'Sorry, that was a lot…you're really patient' to Kimmy was really Stephanie saying 'Thank you for indulging my ridiculousness' to Ellie, director Jude Weng, and everyone on set!"
Unbreakable Kimmy Schmidt season four concl